Reinvent How You Train Strength & Flexibility With This Incredible Black Friday 'OG' Offer!
If you're seeing this, it means you've been invited to join the UMS App & receive 12-Weeks of FREE mentorship (valued at $1,164)! Watch the video below to see more.
Don't take our word for it
★★★★★

After starting the UMS program, I am getting stronger and more flexible at the same time, which is a weird feeling to have, as this was always a struggle with this balance using previous programs.
★★★★★

Best online coaching, period. Built around learning how the body moves, this workout experience focuses on balancing speed, strength, mobility, and flexibility. Intelligently designed workouts, they teach you how to correctly do an exercise while focusing on building a healthy lifestyle. I highly recommend you join the tribe and find your motivation here at Unity Gym Online.
★★★★★

UMS has not only made me pain free but I'm stronger, more flexible, sleep better and I'm able play with my children without popping pain killers.

The knowledge the guys pass out is mind blowing. I've been training for a long time and I'm still picking up knowledge everyday. 
★★★★★

This is hands down the best fitness program I have ever used. It incorporates strength training, flexibility work and it even throws in some calisthenics. There's gym workouts and at home workouts (no gym equipment needed) and trust me after doing the at home workouts for 6 months it absolutely delivered results!
★★★★★

Their at-home workout programs are excellent. They have been very useful during this post-COVID era, with lots of support from their expert coaches. Strongly recommend!
Take A Look Inside The UMS App
Revolutionise the way you train strength & flexibiility and do more of the things you love.
Strength & Flexibility Reinvented
We've removed all guesswork, simply push play and train along. Each program introduces progressive overload as your strength and flexibility increases.
Everything at your fingers
One simple app for every workout. Effortlessly track your macros, meals and progress with full integration into Apple Health, Google Fit & My Fitness Pal.
No equipment? No problem
One low price for both at-home and in-gym UMS Programs.
Frequently Asked Questions
Athletic performance requires overcoming weak links in the body, whilst balancing strength, flexibility and fitness.
Other online coaching programs boast quick 30 minute workouts. That's not enough time to get the volume you need to make remarkable improvements.
Of course, anything is better than nothing, but volume matters most for strength and flexibility. For example, it takes multiple sets on one muscle group taken to failure to achieve noteworthy muscle growth.
UMS workouts are 60 minutes… and in that time we develop all three attributes for athletic performance whilst enhancing your joint balance, stability and physique.
We don't reinvent the wheel. We follow the 3 traditional strength and conditioning principles that have stood the test of time because they produce the best results:
Progressive overload - meaning, manipulate your loading variables to gradually increase the program difficulty so your body constantly adapts.
Supercompensation - meaning, stimulate, recover and repeat. But time the next dose of stimulus to capitalise on the highest peak of adaptation.
Program periodisation - meaning, vary the stimulus and training split to maximise your bodies adaptation and avoid training plateaus. 
We can't take credit for these principles, we do take credit for the results they produce, when combined with our training philosophy, which is;
Optimise technique of the fundamental lifts and mobility movements first. Then build a foundation of strength, flexibility and fitness before getting fancy introducing overload methods that maximise the efficiency and effectiveness of your workouts.
What's the result? You can do what you love without pain so you can perform like an athlete.
We got you - your enrollment grants you access to 2 core variations of the program, one for in-gym (when you can) and the other for when you're at home (with no equipment) so you're covered either way.

If you're wondering what you need for the gym workouts, a squat rack, bench, barbell, dumbbells, kettlebells and gymnastics rings will have you sorted.
We do NOT use fancy assisted machines that do half the work for you. 
Each UMS workout lasts for 60 minutes in total. If you're on the road or in a pinch for time, we've got you covered as well. Your membership comes with 3 different 20-minute express routines for exactly that.
The UMS itself is a comprehensive program, with training up to 5 days per week (if you choose to train all 5).
That being said, we do teach you how to customize and tailor your program to allow freedom and flexibility to work on specific goals, such as calisthenics power moves or rehabilitation of old, lingering injuries.
Membership costs just $49 USD, billed every 4 weeks. This breaks down to $12.25 a week (just $1.75 per day!). There are no lock-in contracts and you can cancel anytime with the click of a button.
Yes! We'd love for you to check out what's waiting for you inside. While we don't currently offer a free trial, you do have an unconditional 30-day money back guarantee, meaning you can train inside the UMS App for 30 days and if you aren't blown away with what's waiting for you inside, we'll refund every cent you've paid.
We have zero lock-in contracts. You can cancel at any time from within the app itself or by simply emailing support@unitygym.com
Plus: You have an unconditional 30-day money back guarantee, meaning you can train inside the UMS App for 30 days and if you aren't blown away with what you get, we'll refund every cent you've paid.
This program is designed both BY and FOR people who got fit and insanely flexible as adults. In fact, the average age of our members is 42 and there are even a few in their 70's who are in the best shape of their life!
So no - you're never too old, inflexible or unfit - the UMS is literally moneyback guaranteed to help you get amazing results regardless.
Whatever age you're starting at, UMS will make you younger.
Your daily dashboard will have a button to view and start that particular day's workout. Each workout consists of a 10-minute mobility and muscle activation warm-up, followed by a 30-minute primary workout focusing on the fundamental lifts and mobility movements, followed by a supplementary HIIT circuit to get your heart rate up and condition your body.
In addition to your regular UMS Program, you'll also find a comprehensive library of on-demand workouts and resources such as nutrition programs, running academy and way more.
The app also syncs with Apple Health, Google Fit, FitBit and My Fitness Pal apps to make tracking your steps, meals, macros and progress simple and seamless.
Want to see how you stack up against other members? Community leaderboards and forums are also waiting for you inside to dominate!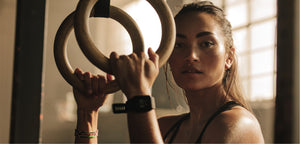 Ttransform your body and your performance.